Terms: Summer (S1, S2 and SU) 2021
The Course evaluation exercise is approaching for the Summer ( S1, S2 and SU ) 2021 terms, the scheduled timeline is:  June 8 to August 11, 2021.
York University courses are supported by the Online Course Evaluation system (ONCE). ONCE is designed in a manner that allows students to complete the evaluation form using smart devices and laptops.  During the evaluation period, email communications and reminders are sent to students to complete their evaluations. Instructors have direct access to their course result reports as soon the final grades are released to students. Due to the ongoing online/remote instruction, courses will be using the ONCE system, that provides an efficient innovative student experience and an environment friendly solution, refer to: York University Sustainability Strategy (pdf)
The Online Course Evaluation system (ONCE) is available for both the Undergraduate and Graduate courses.
School/Department Staff Designate:
For Action:  Your school/department staff designate will link and confirm your courses prior to the evaluation period start date. Please ensure you inform the staff in advance of your participation. Please note only undergraduate courses automatically deliver the university's Core Institutional Questions (CIQs), graduate Courses do not have CIQ's.
The LA&PS Faculty Course Evaluation is listed in ONCE as: 
**AP STANDARD COURSE EVALUATION with CIQ's (OFFICIAL) updated 09/29/2020**
If your department/school has its own custom evaluation, then this is the one you should be linking to instead of the AP Standard. Please confirm with your administrative coordinator or UPD.
Non-Harmonized terms: For courses in non-harmonized terms that would like to use ONCE to set up custom evaluation dates, please email esohelp@yorku.ca with your course information as soon as possible, and our eServices staff will set up the term in ONCE.  Program staff will continue to link and confirm after the initial set up. Non-Harmonized terms are as follows:
Fall: None
Winter: WS
Summer: (AP) D2, I1, I2, I3, J1, J2, J3, S3 and (GS) C3, G1, G2, Q, SF
Graduate Courses: In addition to non-harmonized courses, if you have any GS courses scheduled in harmonized terms but require custom course evaluation dates, please email esohelp@yorku.ca with the course information and timelines needed. Please link and confirm the evaluation as usual, even prior to your request.
*** Please note:
For all courses running 
custom timelines 
for their course evaluations Program staff or course instructors will need to send out a communication either by email or in eClass, directing students to the
Course Evaluations
Website, in order for students to know about completing the evaluations. UIT only sends communications for harmonized terms.
Course Evaluation Protocols for Instructors:
Instructors are encouraged to communicate the importance of course evaluations with students ahead of the scheduled timelines.
Setting a day and time or a synchronous session to conduct online course evaluations for each of your courses is one of the most effective ways to note the importance of evaluations; it is also one of the keys to high response rates. Completion of online evaluations can be facilitated by requesting that students access their smart devices or laptops to complete them.  Access to ONCE is via a Passport York account.
Online Course evaluation results/reports via the ONCE system are available to instructors after the official grades have been submitted and released to students.
IMPORTANT TIMELINES
*please make sure to mark your calendars*
Course evaluation period:

S1 term online evaluations available to students: June 8, 2021 - June 22, 2021

S2/SU term online evaluations available to students: July 28, 2021 - August 11, 2021  

ONCE link and confirm deadline:
S1 term: June 7 by 6 P.M.
S2/SU terms: July 27 by 6 P.M.
Results for ONCE available:
S1,S2 and SU online evaluations results available: September 15, 2021
Information and Assistance:
Why go ONLINE if you haven't already?
York's ONCE system pretty much does it all in one place ! After the program staff link and confirm each course section in the specific dedicated timeline, the ONCE system sends communications/reminders, grants students access to complete the user-friendly form with authenticated and anonymous Passport York access, collects the data, reports the findings, and stores all this information in a secure place.
Fast access to your results: Instructors have automatic access to their own result reports (metrics and comments) as soon the final grades are released to students. The system even provides department evaluation means. Instructors can also track completed evaluations in real time during the evaluation period.
Save the Paper! Thousands of paper and Scantron sheets are used every year by LA&PS for paper evaluations. We want to reduce this profligate waste. Online course evaluations reduce unnecessary consumption of paper and help our Faculty meet the objectives of the York University Sustainability Strategy (pdf).
Reduce resources - Preparing and delivering packages, returning the completed packages, creating spreadsheets for tracking and reporting, scanning the scantron sheets and running the reports manually, organizing and storing results files and the actual paper evaluations, all takes time, a lot of it.
Innovative student experience - Allow students to conveniently complete course evaluations on their smartphones, tablets, and laptops during class time, at home or on the go. If students miss the dedicated class time, they are still able to complete the evaluation.
Tenure & Promotion  – ONCE is now able to provide students the opportunity to self identify and agree to have their course evaluation ratings and answers used for T & P purposes. For this option to be active the following three criteria must be met: at least one short answer question, six or more enrolled students and at least one full time instructor teaching the section.

The following note is provided in ONCE: By typing in your name in the space below, you agree that comments you provide in this course evaluation can be used for consideration of a faculty member's Tenure or Promotion. Your input to this process is valuable.  Your course instructor will be provided with a list of those who provided comments and the comments themselves, but will never see your comments with your name attached.   Only Tenure & Promotion committee can see names with comments in the confidential file.
Other surveys - Instructors may also use ONCE during the term to conduct evaluations and surveys outside of the End of Term Course Evaluation.
Completion Rates – High completion rates can be achieved by providing allocated class time to complete the evaluations. An additional downside to paper evaluations is that some submissions are considered void due to Scranton bubble answers not being filled in correctly.
Online training for Program Staff & Instructors:
There is a new ONCE (online course evaluation) eLearning training course for program staff and instructors if they like.
This replaces the in-class version and is about 1-1.5 hours in duration.
The course is posted on Moodle and requires logging in with a Passport York Account.
If this is the first time you have logged in to Moodle, you'll be taken to your profile screen where you must enter your email address. After saving your profile, return to this message and click the course link again.
The first time you enter the course, you'll need to click on a button to self-enrol in the course, and then agree to a copyright notice.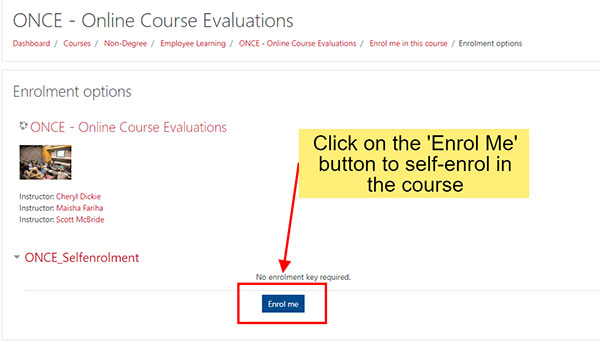 After enrolling yourself in the course, it will appear on your Moodle dashboard at moodle.yorku.ca
Navigate to: ONCE – Online Course Evaluations (eLearning Course)
For ONCE Moodle Course inquiries email LDTech@yorku.ca.
How to...