How-To Guides
We strongly recommend that you print out guides for the type of documents you create, and refer to them as you work until designing for accessibility becomes a habit.
Stripping Formatting from a Word Doc
See our blog post: How to strip formatting from a Word document
Writing Good Alternative Text
Please see Writing Good Alternative Text (pdf) for some tips on writing alternative text.
About Adobe Acrobat Professional
Adobe Acrobat Professional allows you to generate the highest-quality accessible PDFs, and even to double-check accessibility and touch up issues directly in the PDF.
Use it for free at WebFAS.yorku.ca, York's virtual software environment
For those who need to work directly in the PDF, we found a helpful video on how to use the Reading Order tool.  It's good for seeing how you can add or remove content from the reading order, or change its structural tags. But what the video shows you about using the Order Pane to tweak the reading/reflow order of content is not the whole story: this Order Pane impacts the order in which the built-in text-to-speech tool in Acrobat will read back the page, or how the content will reflow on a small mobile device. JAWS and other adaptive software do not use the Order Pane, but rather the Tags Pane—so you'd have to adjust the order in the Tags Pane as well, which is more difficult to do. As a rule it's better to fix reading order and structural problems in the source document, not directly in the PDF.
Setting the Reading Order in PowerPoint
Please remember that in PowerPoint, the reading order for the content on a slide is presented from bottom to top.
To access the reading order, go to the Home tab, find the Editing Group, click on the Select button, then choose Selection Pane: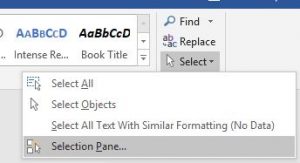 The selection pane will show you the reading order, from bottom to top: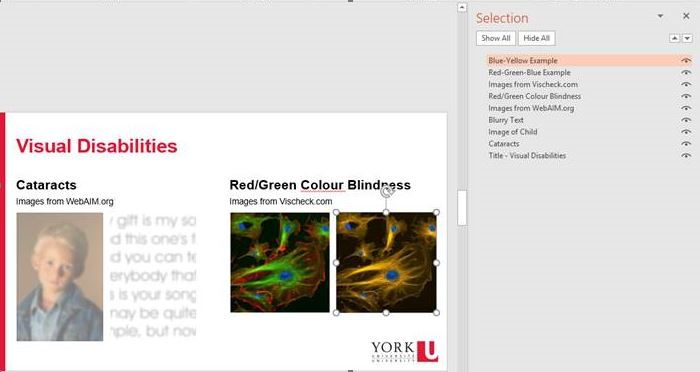 Training Sessions:
Learn how to create and distribute your academic documentation to ensure they meet the accessibility guidelines.
To sign up for training please complete the Training registration form.
Training Location: To be confirmed.
Duration: 1 hours
Registration: One to one custom training is available to you, please fill out the eLearning training registration form with your preferred day/time to meet for training.
Designing Accessible Documents (DADOCS) training courses are also available for program staff, please refer to YELC – York Employee Learning Calendar for  offering information.
Note: If additional program staff training is needed, please email esohelp@yorku.ca, and we can arrange for a custom training session.